Sarper Sesli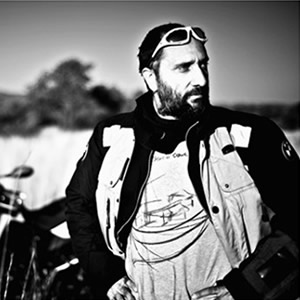 Born in1975 in Germany, Sarper Sesli has always been into outdoor sports in many disciplines during his early ages and this continued until he became the first Bungee Jumping Master in Turkey, as started his professional career as a sportsman and a manager.
In pursuit of his desire for action, he got enrolled in the motorcycle instructor training courses by Thomas Wolf, the head instructor of BMW Motorrad and completed them with success.
Between 2004 and 2009, he worked as a manager and a senior instructor in Turkey's first international motorcycle training and life center, BMW Rider Academy, Istanbul. Starting from BMW products training, MEB, advanced road, off-road, tour guidance, first-aid, mechanical training and on, he completed all the global stages of instructorship. Having completed search and rescue trainings and with a destination experience of over 80 countries, his areas of expertise cover Africa, South America, Middle East, Europe, Asia, and Turkey. As his reputation grew with training and seminars which he delivered in many levels, he also put in practice the first commercial motorcycle tours in Turkey. After a five-year professional career of instruction and management, he moved to Republic of South Africa to help establish an entrepreneurship of dsm group, in which he is involved as a partner. With his corporate attitude of not sharing anything he has not experienced personally, his ability to organize and carry out tour programs which many people dream of, and a character excluding anything ordinary of his life, he welcomes you to Ride the Earth tours to share all his experiences.